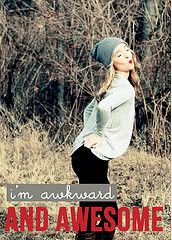 Awkward
Waking up during a rumba scene in a strange Italian movie

Getting "subtly" kicked in the back of the chair during class after dozing off
( I sense a lack of sleep theme going on here...)
That girl wearing Capri's and Ugg boots. Winter, meet summer…
Having to tell your presentation partner that the time is up when she is totally absorbed in what she is saying. *whisper* "hey, time is up. *name* we are out of time." *give helpless look to teacher, who just interrupts and says "your time is up" "right now?" "yes, right now" "It is all gone? There isn't anymore? Not even a little?" "Nope, it is all gone"

Creepy men asking for the time at 5:20 in the morning after dropping Jamie off at work

Walking into a cancelled to find nearly everyone else there. (awkward for the teacher who sent the apology email to the wrong class, and realized her mistake 7 minutes before class started.)
Awesome
Getting 1/2 scholarship for spring/summer
Valentines day- out to dinner and pretty flowers.

3-day weekend in California!! No snow! Hooray!

Thursday's long class getting cancelled so that David could come home at 5 instead of 9!

Boudin's Bread. Carried through airport security and lovingly frozen until lunchtime today when the electric knife got a workout and sawed off a couple pieces. yum.

Plants vs. Zombies. A discovery made during airplane boredom. Hooray for the games that come with laptops!